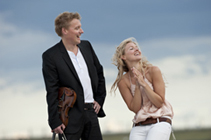 After touring in Denmark, Austria, Germany and the UK Blum & Haugaard continue their
successful Open Eyes Tour in the US.
The two Danish artists will perform 18 concerts, give a few workshops and appear live on
various radio stations during June. They open the tour in Wisconsin and Minnesota as duo and
continue in West Coast states Oregon and Washington with their five piece Helene Blum &
Harald Haugaard Band including cellist Kirstine Elise Pedersen, guitarist Mikkel Grue and
percussionist Sune Rahbek.
The tour includes performances at Nisswa Stämna, Portland Scandinavian Midsummer Festival and
Astoria Scandinavian Midsummer Festival.
For more info look at my schedule page.