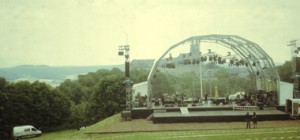 The summer 2013 turns out to be one of the busiest ever for fiddler and composer Harald
Haugaard.
The Helene Blum & Harald Haugaard Band is touring in Germany, Denmark, Austria and the US
during June, July and August and this touring includes major music festivals such as
"Bardentreffen" in Nurnberg (D), "Musikfest" in Waidhofen (AT), "Jam Days" in Odense (DK),
Astoria Scan Fest (USA) and "Songs an einem Sommerabend" at Kloster Banz (D). Performance from
this festival will be broadcasted later this year at German's bigges't TV station ZDF.
Besides of performing Harald Haugaard also teaches at the Musikantenwerkstatt in Austria as
well as his own summer school "Haugaard's International Fiddle School" which takes place in
North Frisia in the German/Danish border region July 28th – August 3rd.
The Fiddle School offers two public concerts: the teacher's concert in Breklum Kirche Tuesday
the 30th of July as well as the finale concert with 125 students on stage in Slesvighus Friday
the 2nd of August.