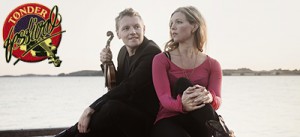 After a great summer with lot of performances in Europa and North America including a sold out
and successful 6th fiddle school Harald Haugaard is about to close summer activities with a
performance at the Danish folk festival Tønder Festival.
After a break of six years Haugaard is returning to this legendary folk festival when Helene
Blum & Harald Haugaard Band is opening the 40th Tønder Festival Thursday 28th of August at
15.00 at the Open Air Stage. The line up includes all six members of the band counting
guitarists Mikkel Grue and Mattias Peréz, cellist Kirstine Elise Pedersen, percussionist Sune
Rahbek and Blum & Haugaard.
The band is planning to perform a mix of tunes and songs from earlier albums as well as a few
tastes from Haugaard's coming album which is expected to be released in January 2015.
Except from the performance with Haugaard's own band he will also appear on stage when he
conducts the folkBALTICA youth ensemble in their concert Sunday 31st at 10.30 am in Tent 1.
Haugaard's last performance at Tønder Festival goes back to 2008 when his former band Haugaard
& Høirup gave their last performance on Danish ground at the festival's finale concert.
More info:
www.tf.dk