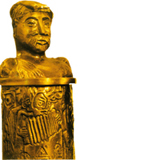 2014 begins with some good news. Helene Blum & Harald Haugaard Band has won the "Eisernen Eversteiner" European Folk Music Award in the 22nd German Folkherbst competition and concert series.
Some of the best and most accomplished folk musicians of Europe are invited each year to compete for the Eiserner Eversteiner award. Nominees are judged by their performances at the Folkherbst concert series in Plauen, where they are evaluated by the audience and a panel of judges.
Helene Blum %26 Harald Haugaard Band's concert in Malzhaus, Plauen in November 2013 was part of the competition and both the panel of judges and the audience choose Helene Blum & Harald Haugaard Band as this years winners with the highest score ever. The band will receive the award and perform another concert at Malzhaus in Plauen on January 25th.
The rest of the tour schedule for the spring will be uploaded late January.
More info:
www.malzhaus.de