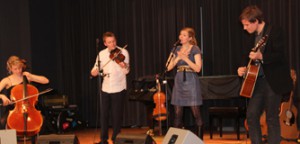 Helene Blum & Harald Haugaard continues their Open Eyes tour in Austria. The Blum &
Haugaard Quartet performs in Modling, Gutenbrunn, Feldkirchen and Salzburg March 14th – 17th.
Besides og that Harald Haugaard has given a workshop on traditional Danish music at the
Universitat fur Musik und darstellende Kunst in Vienna.
The line up for the tour is Kirstine Elise on cello, Mikkel Grue on guitars and Blum &
Haugaard.
More info:
www.triart.at