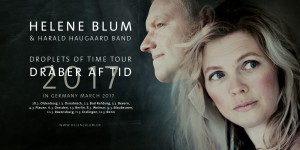 The German leg of the Droplets of Time Tour has begun and will continue with seven more concerts in Dresden, Berlin, Weimar, Blaubeuren, Ravensburg, Esslingen and Bonn. Daily news Osnabrücker Zeitung wrote about the second concert in Lutherhaus:
"Diese Musik spricht tatsächlich eine universelle Sprache, die jeder versteht"
The line up includes percussionist Sune Rahbek, guitarist Mikkel Grue and Finnish bass player Tapani Varis. The tour is presented by Deutschlandfunk and there are still tickets to get for all remaining concerts.